Lyrics from "A vida é uma só (pare de tomar a pílula)" by Odaír José (1973)
___
Já nem sei há quanto tempo // I don't even know how long it's been
Nossa vida é uma vida só// Our life is only one
E nada mais// And nothing more
Nossos dias vão passando// Our days go passing by
E você sempre deixando// And you're always leaving
Tudo pra depois// Everything for later
Todo dia a gente ama// Every day we love one another
Mais você não quer deixar nascer// But you don't want to give birth
O fruto desse amor//To the fruit of that love
Não entende que é preciso// You don't understand that we need
Ter alguém em nossa vida// Someone in our life
Seja como for// No matter what
Você diz que me adora// You say you adore me
Que tudo nessa vida sou eu// That I'm everything in this life
Então eu quero ver você// So I want to see you
Esperando um filho meu// Carrying my child
Entao eu quero ver você// So I want to see you
Esperando um filho meu// Carrying my child
(refrain)
Pare de tomar a pílula!// Stop taking the pill!
Pare de tomar a pílula
Pare de tomar a pílula
Porque ela não deixa o nosso filho nascer (3x)// Because it keeps our child from being born
— Commentary —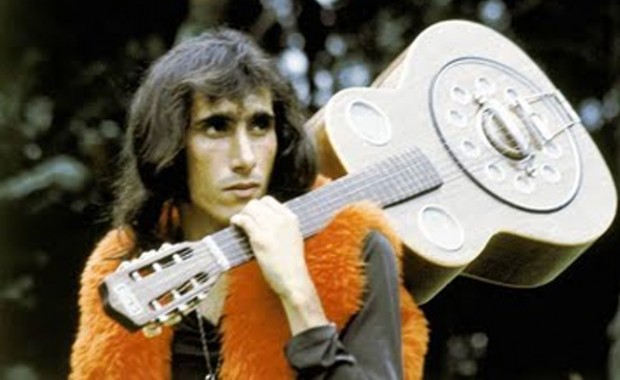 Most people associate protest music during Brazil's dictatorship (1964-85) with MPB singers like Chico Buarque, Geraldo Vandré, and Elis Regina. But even songs like this one, from the brega (corny, cheesy, lowbrow…) genre — an over-the-top romantic style from the northeast — were vehicles of resistance. Composers of brega ballads critiqued racism, social inequality, and the social conservatism of the regime, and advocated for things such as the legalization of divorce (only passed through a constitutional amendment known as the "divorce law" in 1977). Their songs represented a major channel for political discourse among Brazil's poorest populations.
This song serves as a perfect example. The military government treated the impoverished northeast as a problem: an overpopulated and undercivilized hinterland that bred radical peasants and hindered the country's drive toward order and progress. To try to stamp out that problem without instituting meaningful social reforms, the regime pushed birth control pills and IUDs across the region. State-sponsored population-control programs attempted to win hearts and minds with the uninspired slogan "take the pill with lots of love" (tome a pílula com muito amor); this song responded with "stop taking the pill!"
The song was catchy, irreverent, and amusing, and was a runaway hit. After a while, the military regime's censors caught on to the ruse and did not find it amusing: the song was banned and the discs were taken out of circulation.
Like Chico Buarque, who continued to perform banned songs such as "Cálice" and "Apesar de você," José continued to sing this one at shows. But after a run-in with an angry general who told him, "if you're not satisfied with the country, leave," José opted to leave, and went into exile in England.
The late sixties and early seventies were the worst period of Brazil's dictatorship, known as the "years of lead" (anos de chumbo). Things began to change in 1974, when General Ernesto Geisel took office as president. More moderate than the hardliners who had ruled since '67,  Geisel began a gradual liberalization program known as "distensão," which sought to slowly reintroduce some (uncertain) degree of political liberties. Under that aegis, the mid-seventies saw a loosening of censorship and repression, and Odaír José returned to Brazil. His song, meanwhile, experienced a resurgence of popularity in the mid-nineties, when it was the unlikely soundtrack for a C&A department-store commercial that aired throughout Brazil; legions of teenage boys began singing it again, with no clue as to its original context.
Main source for this post: Eu Não Sou Cachorro, Não,  by Paulo César Araújo.